100% Biodegradable Bag Factory --
Raw Matierial to Bags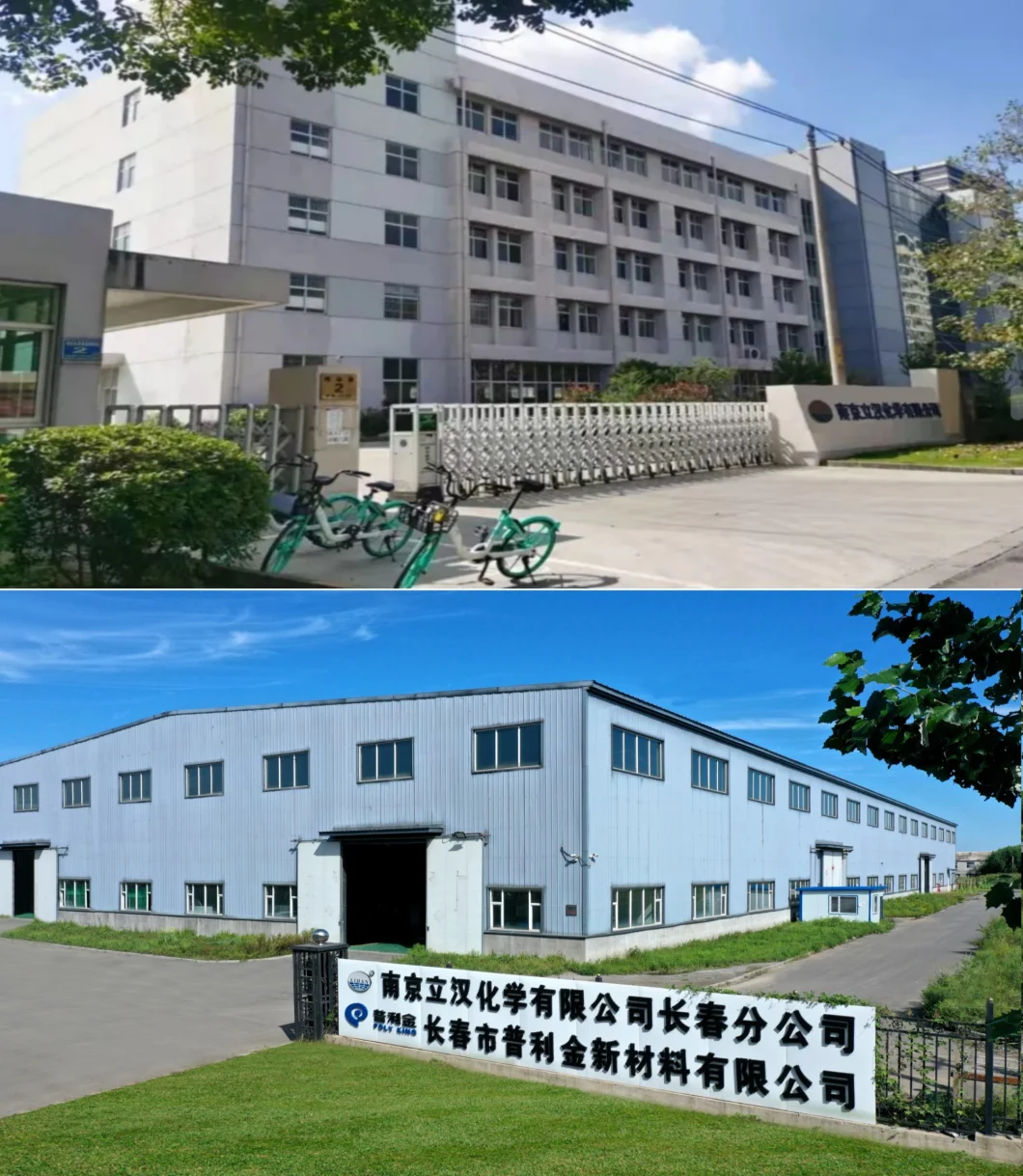 Nanjing Lihan Chemical Co., Ltd was founded in 1994, is a production, processing, sale, trade integration of large-scale private enterprise. The main products are engineering plastics, 100% biodegradable materials and products.

Lihan Chemical has successfully developed biodegradable flexible film material which contains biological carbon more than 60%. The modified biodegradable materials had been maturely used in a variety of application fields and mass-produced into various shopping bags, garbage bags, rolling bags, food packaging bags, disposable tableware, hotel disposable supplies, stationeries, brushes, blister/injection and 3D printing products etc.
Changchun pulijin new materials Co., Ltd., established in 2017, is a subsidiary of Nanjing Lihan. Specializing in the production of biodegradable film bag products, located in Changchun City, Jilin Province.
Most of our biodegradable materials and film packing bags are all up to standard EN13432 & ASTM D 6400 and certified by DIN CERTCO & TUV Compost Home Certification.
In order to get a price for your requirments, please check the following question, and give them to me, then I can give you a detail price, thank you!

The bags could be
customized as you want
!
Product price depends on customer requirements

Bags Type(Choose)

Vest bags Garbage bags(Star bottom)
Garbage bags(single piece) Die cut bags on roll
Die cut bags with hole Self adhesive bag
Orthers___________________________________

Material(Choose)

PBAT+PLA+Starch
PBAT+PLA+PBS
Others _______________________________________

Color printing(Choose)

1S1C 1S2C 1S3C 1S4C
2S2C 2S3C 2S4C

Quantity




Size and thickness(Customized)

Thickness minimum is 15micros.

Packaging

Inner packaging box(Customized):______________
Transfer packaging(Customized):______________

Other requirment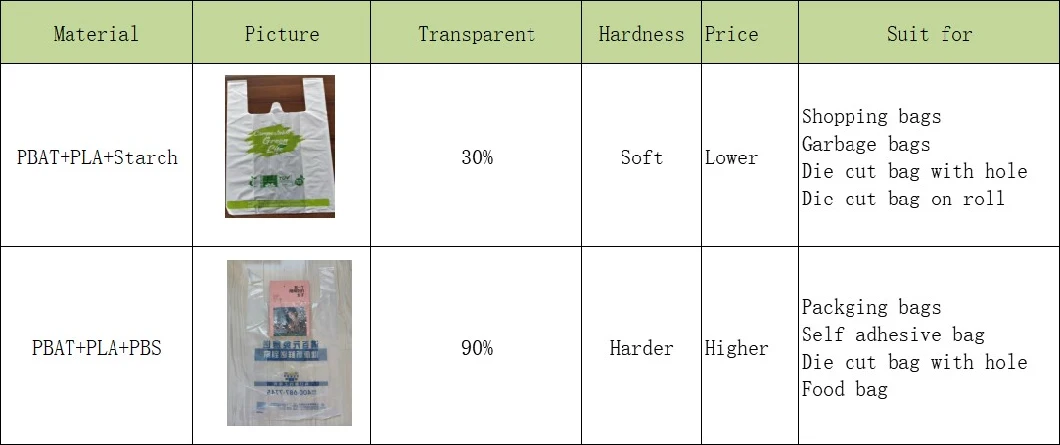 Our Range of biodegradable compostable plastic garbage bags on roll are the perfect alternative to traditional plastic bags, which

made from corn starch

and degraded within 45 days in an idea compost Environment.
All of our 100% shopping bags & garbage bags printed with water-base ink
are certified by DIN CERTCO under ASTM D 6400 and EN13432 standards.
From our raw materials, ink, to a finihsed products, you can be sure that any item we produced do not harm the environment in the process and will be degraded completely!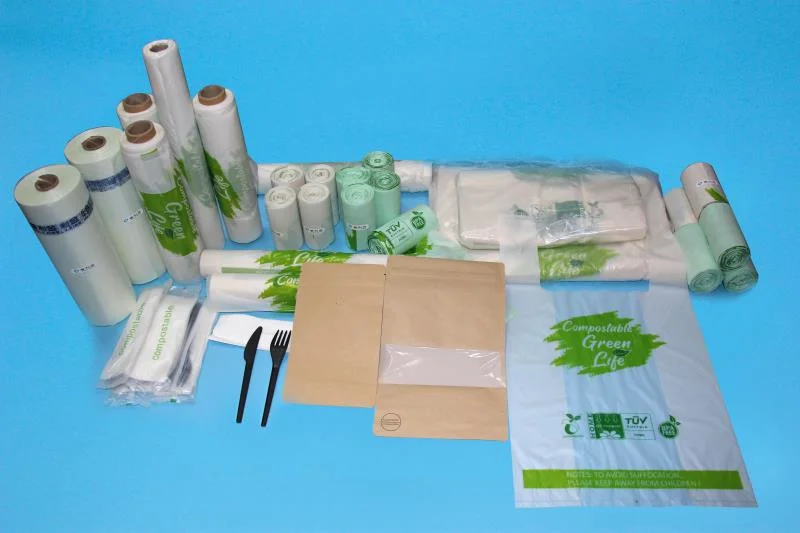 Now in China a lot of Cities will use biodegradable products, at the begainning is the bags change, and my company is located in Jinlin province---- the first province for forbidden normal plastic.

In 2015, Jinlin province already begin use 35%PLA bags for local standard. so we have so many years products/service experiences for supermarkets/food shops/hospitals. Now we have expanded our capacity from 300tons/month to more than 500tons/month for products, and raw materials plus 200tons/month. Fighting !

From Bio Resins to films to bags. Our production lines will be more and more.
We only make full biodegradable products, Professional and Focus!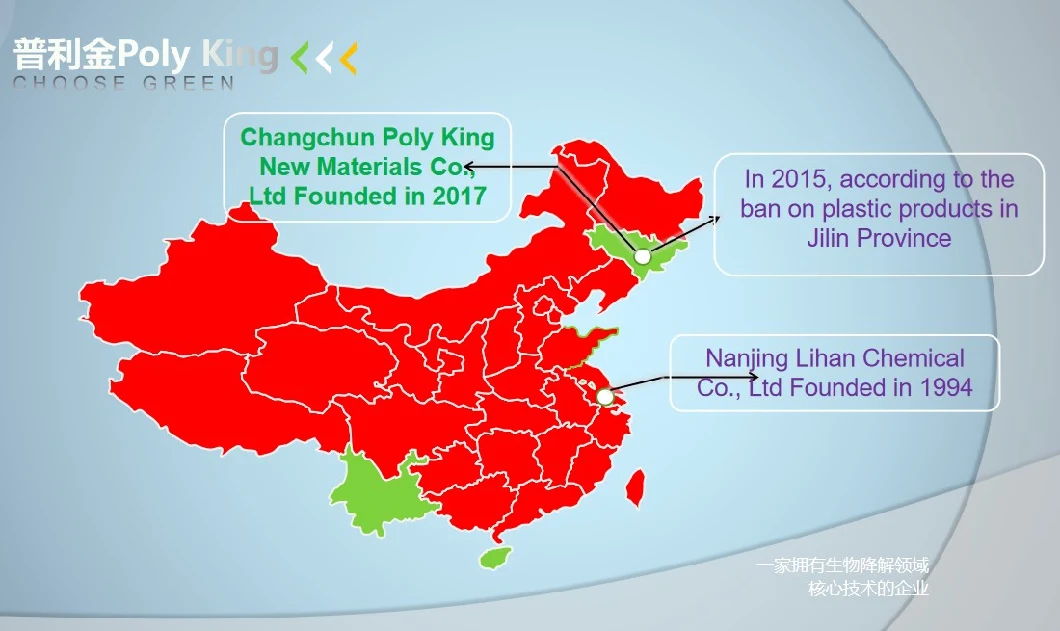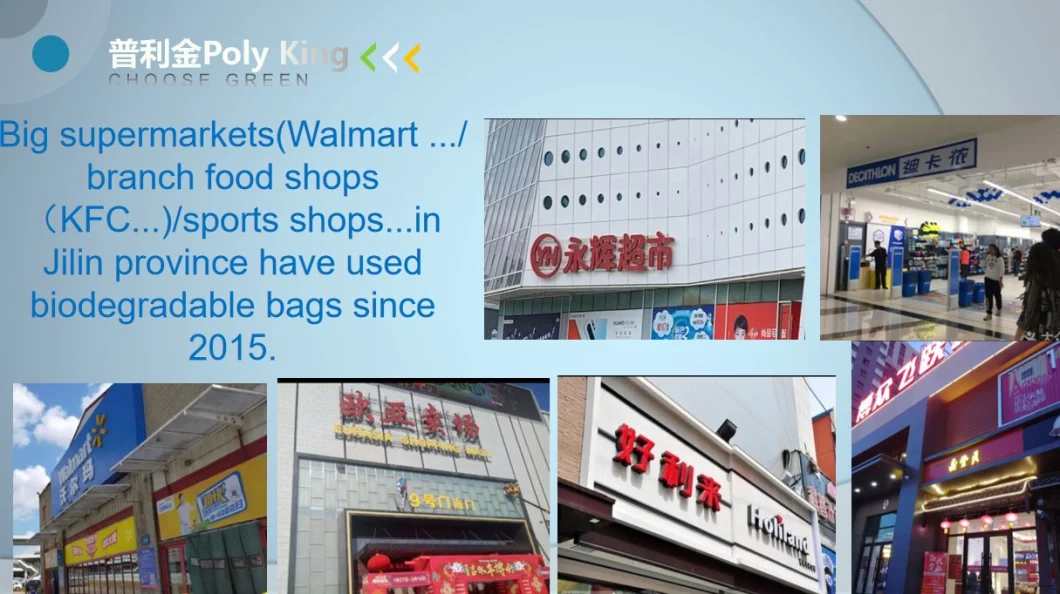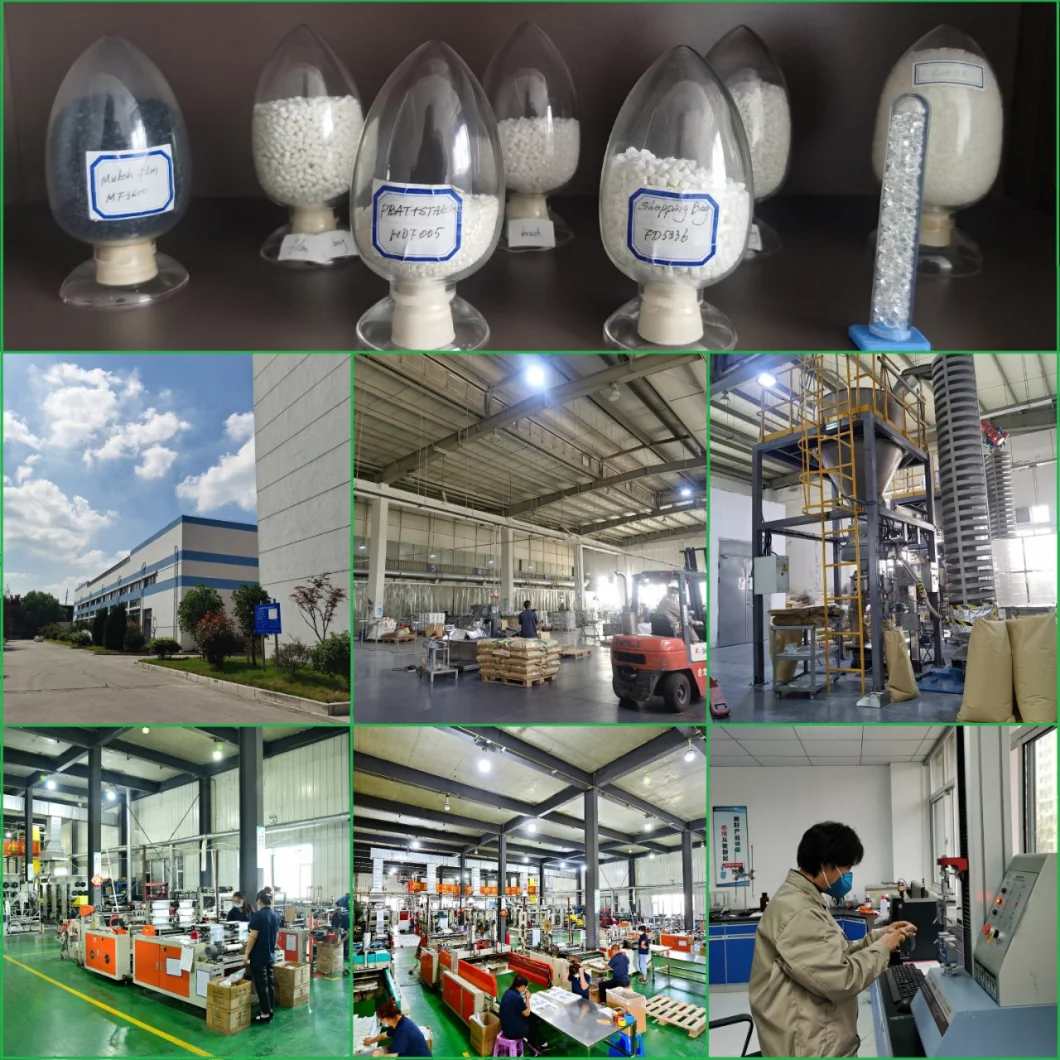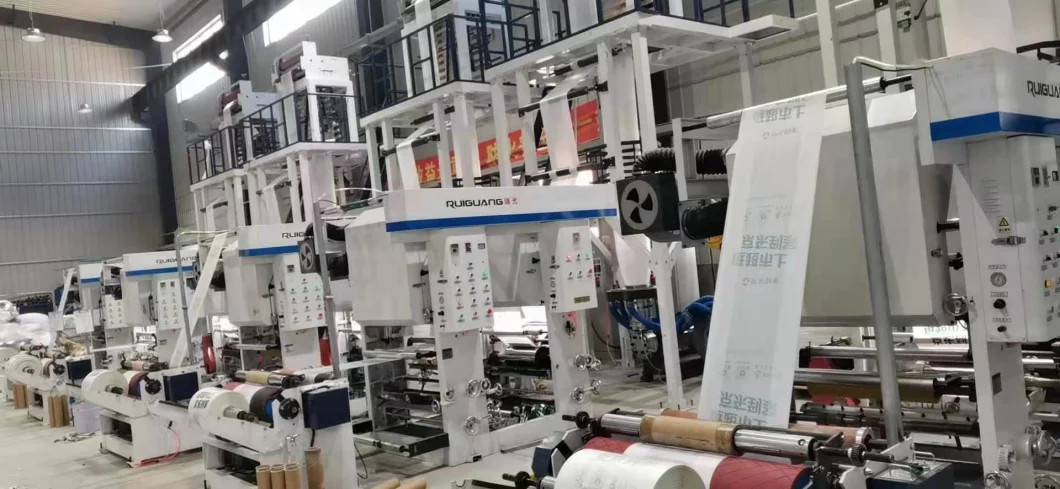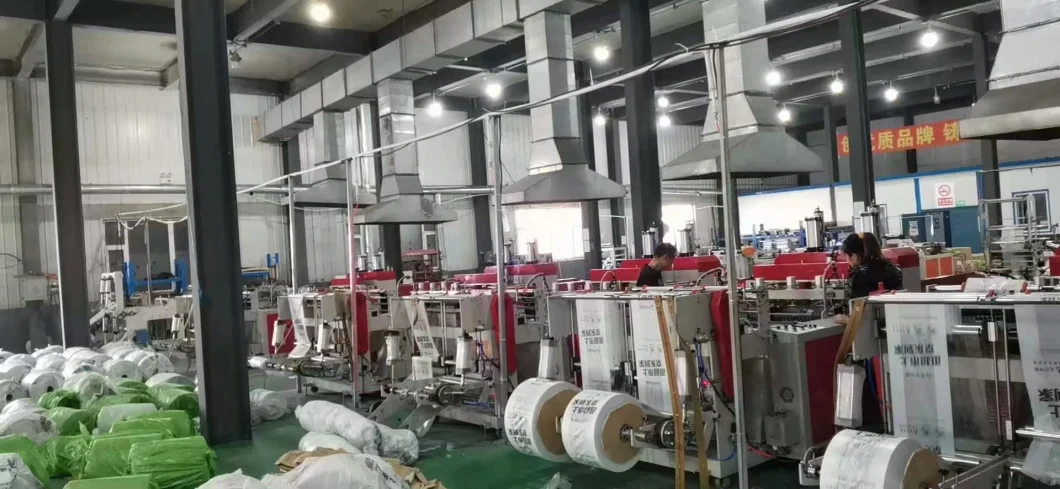 In order to suit for international market, we have been made several certificates, such as DIN, TUV, BPI.....